Non Religious Beach Wedding Ceremonies/Renewals:
These ceremonies are performed by a non denominational reverend. The length is 20 minutes, and couples can choose to write their own vows, or use those of the minister. You can also choose to include: the rose ceremony, stone tossing ceremony, sand ceremony or the lighting of the unity candle. All the items needed for these ceremonies can be provided at an additional fee or the couple can bring their own. Proof of prior legal marriage is required.
Religious Commitment Ceremonies
Protestant
Wedding ceremony can be officiated in the local Protestant Church located downtown or anywhere else the couple chooses to have it. Proof of prior legal marriage is required.
Roman Catholic
It is possible to have a Catholic service at one of the local Churches. Please inquire for further information and procedures.
Jewish Wedding
Requirements:
Both partners must be Jewish and need to submit a verification of Judaism from the Rabbi of their hometown.
The Aruban Rabbi accepts Jewish status certificates from valid Orthodox, Conservative, Reform, Liberal and Re-Constructionist Authorities.
A formal petition needs to be submitted to the Aruba Jewish Community.
The wedding ceremony may take place either in the synagogue or any other venue of choice.
The synagogue of Aruba is an independent Conservative-Reform style congregation.
Same Sex Commitment Ceremonies
Commitment ceremonies for same sex couples are also performed by a non denominational minister. Proof of prior legal marriage is not required..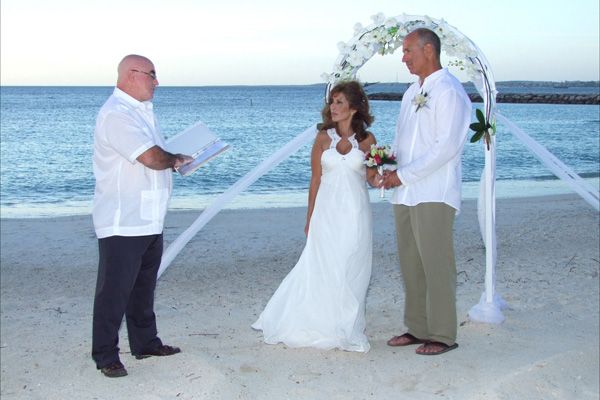 ---